"This is my skin and I'm always going to be in this skin so I'm going to love it."

The majestic concept of being mixed-race. They get the best of both worlds. Or maybe the best of three. Or four. Or five. However, along with perks of being multiracial there are many mixed-race people around the world who feel lost in connection to tradition and culture. This post is centered on the almost never-shared point of view of the average, completely mixed-race person. Jahaan tells us about her good and bad experiences of being very multiracial.

"​

Allow your melanin to pop."

Many children go through teasing and torment from family or friends for being different. Some children don't directly get teased although feel sidelined. Chanice discusses this from a point of view relating to skin tones.

Growing up with brown skin hasn't always been that great.

As a young girl I would be embarrassed to wear traditional wear or anything that was "too Indian" in public. I grew up consuming Western culture and therefore thought that I should be ashamed of mine. It took me years to realise there's no such thing as "too Indian". Maybe you're too much for some people. Too unique, too empowered, too celebratory of yourself for their liking but that has nothing to do with you, and has everything to do with them. I was born into a magnificent culture and cherish the day I realised this.

Powered by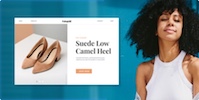 Create your own unique website with customizable templates.