THE DIALOGUE ABOUT WOMEN IN MUSIC
How are women spoken about in music and is it respectable?
'A GARDEN ON HER SKIN' PHOTO SERIES
Vidal explores being of South Indian decent and the role body hair has placed in her life and the lives of those around her.
PRIDE MONTH 2018 IN A MUSICAL NUTSHELL
Reflecting on the amazing musical work queer artists gave us in June 2018 and prior.
4 TIMES FASHION WAS USED AS A FORM OF ACTIVISM
Fashion can be more than just pretty garments. From the mid twentieth century, fashion has been notably used to send a message.
THE BLOGGER RECOGNITION AWARD
Mild Brown was awarded the Blogger Recognition Award in 2017.

Powered by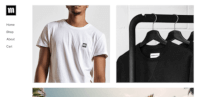 Create your own unique website with customizable templates.