From the longest time I can remember, I have been aware of my hairiness. I am of South Indian decent and Indian people tend to be a bit hairy. I don't really know the why's and how's but that's how it is.

The start of any new year is always buzzing with excitement in Hollywood. Partly because everyone is still in a festive mood and partly because the New Year brings a score of award ceremonies! Award season 2018 is here and I have the complete rundown outlined including all the movies set to release this month.

All movie release dates mentioned are according to the USA premieres and do not necessarily correspond with South African cinemas.

Happy October everyone! I have been sparse with posts recently due to matric being an insanely intense year. However, I'm back for a little while and cannot wait to tell you all about the launch of the latest Olympus camera.
Powered by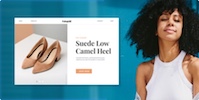 Create your own unique website with customizable templates.