Body positivity has slowly, yet surely, taken the world by storm in recent years and it's about time! I asked Jessica Kilfoil, the founder and owner of

Sugarplum Swimwear

, a few questions about her inclusive brand.

Sugarplum Swimwear

, based in Durban, specialises in bikinis and swimming costumes in cup sizes for bigger busted ladies with sizes ranging between 32D-38F.

V: When did you start Sugarplum Swimwear?

J: Sugarplum Swimwear had been an idea for about three years before officially launching in December 2016.

V: Why did you decide to start Sugarplum Swimwear?

J: After never being able to find well-fitting beautiful bikinis for myself locally, I thought I can't be the only one who is battling with this problem. I did some research and really saw a niche in the market.

V: What challenges did/do you face in the swimwear industry?

J: I really wanted to make a proudly South African product and immediately started off trying to find a good local manufacturer. My enthusiasm was quickly curbed when anyone I had contacted couldn't seem to help me. Finally, after many months and many many (mostly unwearable!) samples, I managed to find a reliable manufacturer.
Other difficulties that I've encountered, is finding the different elements that cater for the bigger bust sizes - I've even had to have the under wires specially engineered.
But I love being so involved in the process, from making up and adjusting patterns to having to pick the colours and prints of the fabric or trying to solve production problems.

V: What has been the highlight of your business thus far?

J: I was always speaking about the idea of this swimwear brand I wanted to started and at some point I think everyone (including me) thought it was never going to happen - but the day I fetched my first lot of stock was definitely a highlight. It was as though Sugarplum was finally here!

But more regularly, I think my favourite part of each production run is picking the fabric. It's usually a tiny square of colour or print and I get my whole family involved with giving their opinion of what I should choose. So when the large quantity arrives and I rip open the packaging to see what it looks like on mass, it feels like Christmas for me!


V: Where does the inspiration for your brand come from?

J: Five years ago if you had told me, "You'll be designing bikinis one day," I probably wouldn't have believed you. Now I see elements that can be used in swimwear everywhere and I try think of how I can combine the practicality of fitting a bigger busted lady while still looking amazing.
I also like to hear what ladies are looking for and try make that happen for them! So when I'm designing a new style, I basically dream in patterns!

Sugarplum Swimwear is a brand that I'm proud to call local. Jessica encapsulates beauty and grace in her swimwear and it warms my heart to see our South African women growing their brands while taking the everyday woman into consideration. Curves are magnificent and magical so thank you to all the women like Jessica who are putting body positivity on the fashion map.

Powered by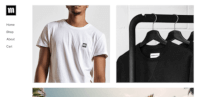 Create your own unique website with customizable templates.