One of my FAVE local fashionistas and bloggers is twenty year old, gender fluid

Luke India

. They graduated from high school last year and decided to take a gap year instead of going straight to college. They describe themselves as a makeup hoarder and minimalist. To anyone who knows them, it is clear that they are a breaker of societal standards. I caught up with them virtually to discuss their awesome blog, winter tips and more!

V:

What

inspired you to become a fashion blogger?​

​

L.I: My inspiration for fashion blogging came from the E! TV series, '

Fashion Bloggers'

. I remember always telling myself: "When I grow up, I want to be like Margaret Zhang and Sarah Donaldson."

V: Why di​d you choose blogging as a medium of expression?

L.I: I have always wanted to try my hand at blogging. I tested the waters for a few months and fell in love with it. To add to that, I have a very strong passion for fashion and I also enjoy writing (even though writing is not one of my strong points), so blogging is my way of combining the two.

V: ​You​ have clearly created a groundbreaking niche in the SA blogosphere by
being very openly gender fluid. How do you want to use your platform to inspire others especially in the LGBTQIA community?

L.I: I want us to be free to fully be ourselves and embrace our individuality (and identity) without limiting who we are and falling prey to what society expects us to be.

V: Who are your fashion influe​ncers?

L.I: Internationally, Margaret Zhang, Sarah Donaldson, Kim Kardashian, Kylie Jenner and Rihanna. Locally, Lulama Wolf, Qaanita Orrie, Rebecca Arendse, Aisha Baker, Lauren Campbell and Nabilah Kariem. There are many more but those mentioned are like on top of my list.

V: What are your top fashion tips for winter?
​
L.I: A winter tip that I live by (and never failed me) is to layer. Layer layer layer! Invest in a good coat - apart from the quality, choose one that is versatile and can easily be paired with pieces from the new trends we are introduced to every season. Lastly, DO NOT BE AFRAID TO WEAR COLOUR IN WINTER!

​With the end of winter nearing, you can definitely expect some fabulous new posts from Luke India on their blog. Having a style like theirs doesn't just happen overnight though as they explain, "Developing a passion for fashion at the young age of seven years serves as my motivation to pursue a career in the fashion industry as a designer or stylist. Because of my growing obsession with makeup, I plan to follow a career in makeup artistry too."

​You can find their social links below:

Powered by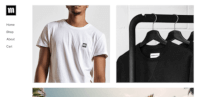 Create your own unique website with customizable templates.