Women's Month is here and I'm super excited to produce more content based on the trendsetters, trailblazers and queens of our time! I'm kicking off this month with an exclusive interview from successful fashion designer, Brett Robson. She is a shining example of South African women who are not afraid to go out into the world and kick some butt.


Brett is a local fashion blogger and designer who was born in Cape Town, but only lived there for a short time as an infant as her family relocated to Durban. "I loved playing with my Barbies. I used to make clothes for them out of scraps of fabrics," she said about her childhood, and I guess that's where her passion for fashion began.

V: Why did you choose to study fashion design?

B: My passion for clothing started as a child when I used to make my Barbie dolls clothing. When I was about to finish high school, fashion design seemed like the most natural fit for me.

V: What was your biggest fear when you first entered the fashion industry?

B: I can't pin point a specific fear I had, but I can definitely say it was daunting. The idea that people may not like what you create is scary.

V: What do you view as your biggest accomplishment?

B: I view Shop Brett Robson as my greatest accomplishment. Our online platform is a work-in-progress, but even so, the fact that over the past 2 years we have managed to see growth is really amazing. We continue to grow each day.


V: Who are your fashion inspirations?

B:

Women in general are my inspiration. I'm inspired by so many women from all avenues in life. In terms of fashion inspirations specifically though, I would say I am inspired by online businesses like Revolve, Boohoo, Asos & Pretty Little Thing. I have followed these businesses & their growth for years now.

V: The desired impression of your clothes is to "make you feel like you can do anything". How does Shop Brett Robson try to achieve this?

B:

It's really about confidence. We want our customers to look & feel amazing when they wear our clothing. I think we incorporate that vision in everything we do as a brand. The photo shoots we do; the models we use; our styling; it's all meant to make our customers feel confident.

V: What is your go-to piece of fashion advice?

B:

If it doesn't make you feel good – don't wear it.

V: What are the short-term goals for Shop Brett Robson?

B:

There are a few in the works right now. You'll have to keep a look out ;)

And that we will. Brett Robson brings international trends and seamlessly sews them together with a local twist. Her brand is picking up momentum and grabbing the attention of some local celebs and bloggers like Lauren Campbell (aka

@fashionista_ct

) and Aqeelah Harron Ally from

@fashionbreed

who simply

slayyy

in her pieces!

I've attached one of Brett's lookbooks (underneath the social links) for your perusal which was styled by the amazing Tracy-Lee Rosslind!

Follow the journey of the

Shop Brett Robson

brand below:
Powered by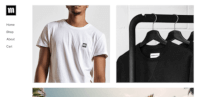 Create your own unique website with customizable templates.