"Always do your best. What you plant now, you will harvest later." - Og Mandino

Olivia's New Life

'awarded' the Blogger Recognition Award to Mild Brown and I haven't been able to post about it because when I received it, I was writing my preliminary exams. Then, the week after my exams finished I had to prepare for my Matric Dance/Ball and after that I had finals to write. But, long story short, I finally have time to write about the BRA now - detailing what it is, what it means and revealing the 10 blogs that I 'award' the title to.

WHAT IS THE BLOGGER RECOGNITION AWARD?

According to my understanding, the B.R.A is a peer-based award that is not governed or implemented by a specific organisation or group. The B.R.A is given to bloggers by bloggers. The award is not tangible but rather one of, well, recognition. It's the blogosphere looking at you and metaphorically saying, "We see you and we appreciate you." The award is given to the recipient on a public platform, namely on someone's blog.

---

WHAT THE BLOGGER RECOGNITION AWARD MEANS TO ME

I think that the B.R.A is an excellent way to make bloggers feel appreciated. There are no follower specifications or rules per say so the award is given to you purely based on your content and your overall blog. I am truly happy that I have received this title. It's awesome to know that someone out there feels that Mild Brown deserves some public recognition.

---

MY ADVICE TO BLOGGERS

IT'S NOT EASY AND THAT'S OKAY: I went into blogging thinking everything would be a piece of cake but I was surprised to learn how much of work it takes to run a successful blog. If you want your blog to succeed have patience, be passionate and always stay true to why you started in the first place. Those three things will guide you to the right path.
FIND YOUR NICHE AND STICK TO IT: Many times I see bloggers who label their blog as one thing but write about completely unrelated topics. Don't do that. It happened to me when I started out because I didn't narrow down the direction I wanted to take my blog in. Once I found my niche, companies started approaching me and now I can see my blog slowly reaching my desired success.

---

10 BLOGS I AWARD THE TITLE TO

---

RULES OF THE BLOGGER RECOGNITION AWARD

Thank the blogger who nominated you and leave a link to their blog.
Write a post to show your award.
Give a brief story of How/Why you started blogging.
Give two pieces of advice you would give to brand new bloggers.
Select 10-15 other bloggers you want to give this award to.
Comment on each blog letting them know you have nominated them giving the link to the post you have created.

---

CONGRATULATIONS TO ALL THE WONDERFUL BLOGGERS MENTIONED IN THIS POST!
Powered by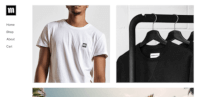 Create your own unique website with customizable templates.

UA-104611549-1